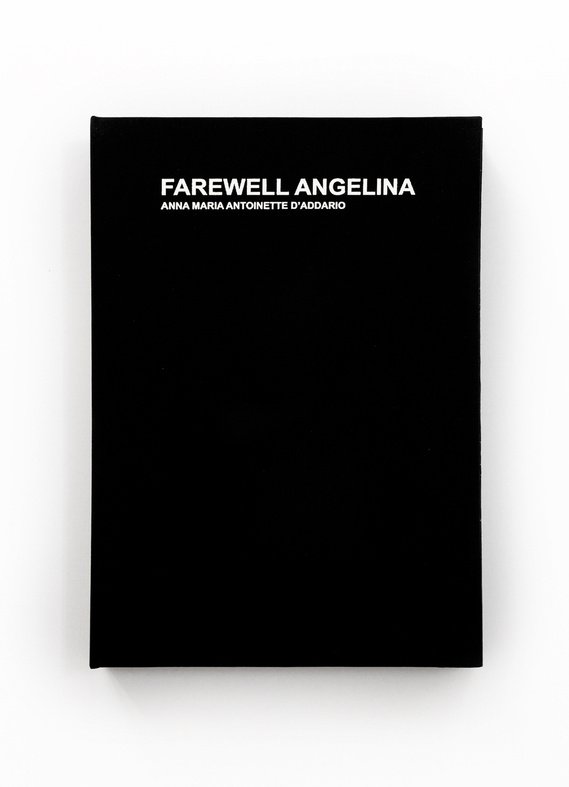 FAREWELL ANGELINA

Publication Date: 2018

Artwork type: Limited Edition Handmade Artist's Book
Medium: photographic
Dimensions: 23.0 cm W x 23.0 cm H x 4.7 cm D
Binding Type: concertina
Edition Size: 8
For more information or to acquire this work for an institution contact the artist.
Contributor
Anna Maria Antoinette D'Addario (artist)
Origin
Australia
Printed by Momento Pro.
ISBN 978-0-6483339-0-6
Collections
National Library of Australia (Ed. 1/8)
State Library of NSW (Ed. 3/8)
Private Collection
Awards
Photo Lux PhotoBoox Award 2019 Winner, Ravenswood Australian Women's Art Prize 2019 Highly Commended.
"This work began as a response to the loss of my sister in 2015. It was an act of resistance and of survival, an attempt to speak in the face of silence, and with time, it has developed into an autobiographical handmade bookwork that contains within its pages, a photographic elegy for my sister."
Description
Farewell Angelina is an autobiographical handmade artist's bookwork developed in response to the violent loss of the author's sister in 2015. The photographic bookwork itself reads in a traditional way but also folds out into concertina form. Archival pigment printed on Japanese Mulberry Kozo fibre based handmade paper. It contains vellum pages, an individual inserted hand sewn booklet and inserted separate text pages and gatefolds. It has a black linen hardcover (white embossing) and sits inside a matching black linen clamshell box that has a black embossed title.
Other information: This work was developed alongside a research investigation following a journey of grief explored poetically and with urgency through photography and the creation of a photographic bookwork. This bookmaking process reveals an autobiographical inquiry into the power of photographic art practice to respond to trauma, loss and grief and to help shape meaning in the aftermath. Theorised is the capacity of artistic mediums, such as photography, to house memory and give form to otherwise inchoate and chaotic emotions and doing so, help us to shape the meaning we make of our lives and our worlds after profound loss. This inquiry, which responds directly to personal history, also reflects on art's ability to create sites for grief and mourning. The thesis is currently available for research purposes with the Sydney College of the Arts, Sydney University library database.